Professional Concrete Mixer Manufacturer

Portable Cement Mixer's Cooperative Production
---
As everyone knows that building projects cannot do without concrete mixing production. Concrete mixer after all is the necessary equipment to produce concrete.
Portable cement mixer's cooperative production
includes complete each independent equipment cooperation.
Because of characteristics of
portable cement mixer
, concrete mixer can be used to produce concrete on kinds of construction sites. In different working places, adjust concrete mixer in view of the present situation of construction sites.
(1) concrete raw materials processing
Concrete management apparatus includes concrete silo, concrete measuring scale and material proportioning screw controlled by frequency converter. The measuring scales and radar sensor is used for measuring the amount of material in the silo. In order to avoid bringing a lot of dust, concrete mixer must also be equipped with air filter and automatically remove dust in the air by using vibration theory. In addition, the use of sensors can also protect the silo bin and avoid excessive pressure.
(2) water measurement
Water firstly is weighed by measuring scale with two control valves and then weighed by using the parallel flowmeter for more accurate measurement.
(3)dinas transportation
Sand and gravel are weighed in the discharge chute or on the conveyor belt by the strain sensor. If use a truck, dinas is controlled by frequency converter, the terminal position sensor and secure terminal position sensor control. In applications having high requirements, sand in silo is measured by the radar sensor. If necessary, the radar sensor can be used to measure the water content in the sand.
(4) add accessories
Concrete is produced according to the specific requirements of different applications, so the characteristics of concrete are not the same. Today, it is difficult to imagine in the concrete production process do not add any ingredients. These accessories are mainly added by using pumps and metering scales.
With over 15 years of experience in the
concrete mixer
industry, we have seen and made changes to accommodate different market demands.
Production takes place at our ISO 9001:2008-certified factory equipped with advanced equipments. Every concrete mixer is strictly inspected by our QC staff members. You can rest assured on our concrete mixers.
E-mail us today.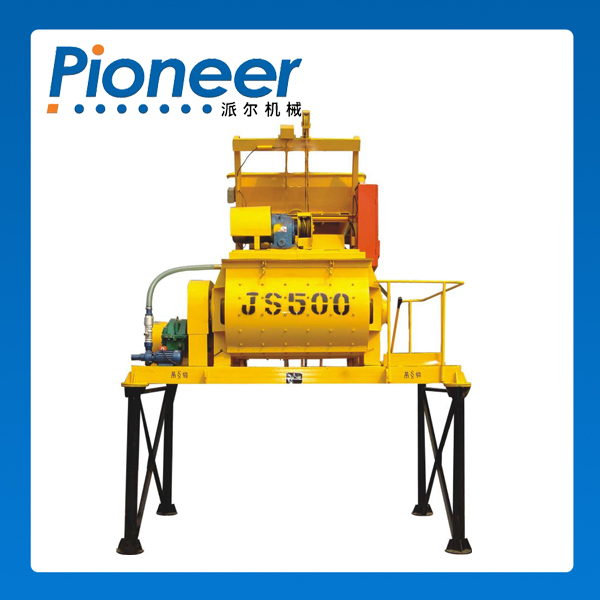 ---
---
Do not hesitate to contact us ,we value your message