Professional Concrete Mixer Manufacturer

Classifications of Concrete Mixers
---
Classifications of concrete mixers
are as followings:
1. According to the nature of work,
concrete mixer
is divided into periodic working concrete mixer and continuous working concrete mixer.
2. According to the mixing principle, there are self-falling concrete mixer and forced type concrete mixer.
3. Concrete mixers can be grouped into drum concrete mixer, conic concrete mixer and disc concrete mixer according to the shape of mixing barrel.
In addition, concrete mixers can also be divided into
planetary concrete mixer
and horizontal shaft concrete mixer.
Self-falling concrete mixer has a long history. As early as the beginning of the twentieth century, drum concrete mixer driven by steam engines begun to appear. After 1950s, reversing double-conic concrete mixer, split drum concrete mixer and other concrete mixers came out in succession and got development. Structure of gravity type concrete mixer is simple and self-falling concrete mixer is suitable to mix plastic concrete. When it is working, the mixing cylinder around the horizontal axis, material is lifted to a certain height and then drop down. Go round and begin again the movement to achieve uniform mixing effect.
Compulsory concrete mixer
has obtained the rapid development and popularization since its appearance in the early nineteen fifties. Disk vertical shaft type forced concrete mixer was firstly appeared. In 1970s, with the application of lightweight aggregate, the circular groove horizontal shaft type forced concrete mixer began to appear. Horizontal shaft concrete mixer can be divided into single horizontal shaft type concrete mixer and double horizontal shaft type concrete mixer. Forced type concrete mixer has stronger mixing power than that of drum concrete mixer and it is suitable to mixdry hard concrete.
With the development of concrete material and construction technology, a lot of concrete mixers with new structures appeared.
Contact us today for more information.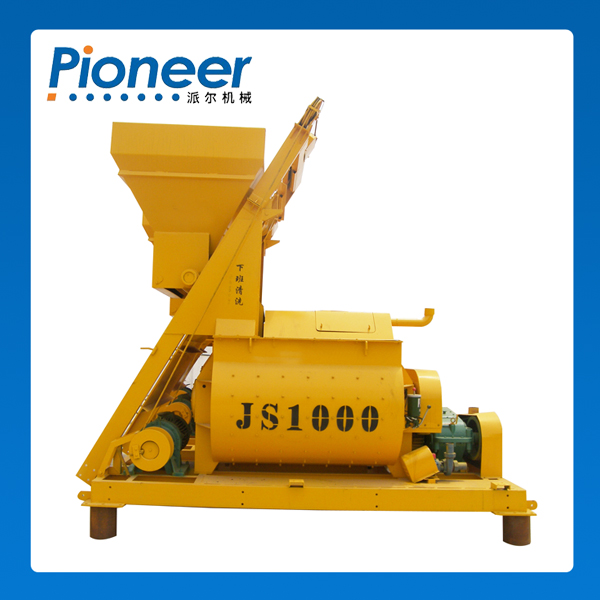 ---
---
Do not hesitate to contact us ,we value your message