Professional Concrete Mixer Manufacturer

JZC Series Concrete Mixer
---
JZC Portable Cement Mixer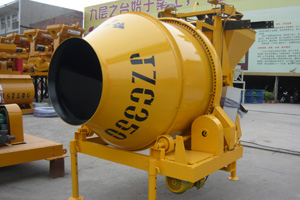 Definition of JZC Portable Cement Mixer
JZC
Portable Cement Mixer
is self-falling type double-conical reversing discharging mobile cement mixer, also be called portable cement mixer. Portable cement mixer can mix plastic and half dry concrete. The drum of portable cement mixer mixes when it runs clockwise and discharges when it runs anticlockwise.
Usages of JZC Portable Cement Mixer
JZC portable cement mixer is popular used on general construction sites, roads, bridges and small concrete plants.
Features of JZC Portable Cement Mixer
Portable cement mixer has new and rational structure, also has the advantages of high production efficiency, fabulous mixing quality, light weight, artistic appearance, etc.. Portable cement mixer is a kind of advanced mixer.
When fixed mixing, people can dug pit to let the hopper mouth of portable cement mixer is at the same level of the ground, so that feeding is convenient and will greatly reduce the labor intensity.
Pioneer Machinery Company develops and produces small cement mixer. The price of portable cement mixer is not the cheapest, but it is actually reasonable. Compared to js series
concrete mixer
, it is cheap concrete mixer.
JZC portable cement mixer includes:
JZC250 concrete mixer, JZC300 concrete mixer, JZC350 concrete mixer, JZC500 concrete mixer and JZC750 concrete mixer.
Among these JZC portable cement mixers, JZC750 concrete mixer is fixed type concrete mixer. Other
JZC concrete mixers
are tyre towing mobile type concrete mixers.
The supply ability of Small cement mixer is 3000 sets per year. The warranty of period is one year. Small cement mixer has ISO certificate, so you can trust the quality of portable cement mixer.
Parameters of JZC Portable Cement Mixer:

| | | |
| --- | --- | --- |
| Model | JZC250 | JZC350 |
| Discharge capacity | 250L | 350L |
| Charge capacity | 320L | 560L |
| Productivity | 6-8m3/h | 10-14m3/h |
| Max Aggregate size | 60mm | 60mm |
| Mixing Motor Power | 4.5kw | 5.5kw |
| Lifting Motor Power | 4kw | 4.5kw |
| Pump Power | 0.55kw | 0.55kw |
| Drum rotating speed | 17r/min | 14r/min |
| Weight | 1500kg | 1950kg |
| Dimensions(L*W*H)mm | 2260*1900*2750 | 2766*2140*3000 |
---
Do not hesitate to contact us ,we value your message