Professional Concrete Mixer Manufacturer

PLD Batching Machine
---
PLD Batching Machine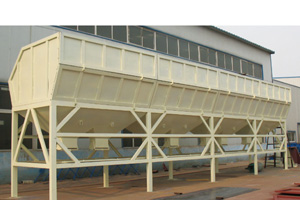 Definition of Batching Machine
PLD batching machine
of concrete batching plant is one automatic batching equipment and is used with concrete mixer. PLD series concrete
Batching Machine
is a kind of sandstone proportioning and batching device, and it adopts lifting hopper or belt conveyor to supply material to the mixer. Concrete batching machine can mix more than three kinds of material. The aggregate ingredient system may be equipped with 2-5 aggregate storage bins and can automatically finish the batching procedures of materials such as sand, stone, cement, according to users' demand.
If PLD concrete batching machine combines with various types of mixers and other metering devices, then different types of concrete mixing plants can be formed.
Features of Batching Machine
PLD batching machine
is composed of feeding mechanism, weighing system, electric control system and other parts.
This series concrete batching machine adopts electronic weighing, computer control, digital display, wired remote control operation, which will effectively guarantee the mixing accuracy of cement, sand and stone, greatly reduce labor intensity of the feeding part and improve the quality of concrete mixture ratio, etc.. In addition, PLD
concrete batching plant
has excellent sealing performance and no leakage. So PLD concrete batching plant is an ideal batching equipment for various kinds of concrete mixing plants.
Usages of Batching Machine
PLD concrete batching machine is a new type of mixing machinery, and it suitable for ordinary construction sites, roads, bridges, etc..
Pioneer Machinery Company provides batching machine for sale. Price of batching machine is reasonable while the quality is reliable.
Parameters of Batching Machine
Item
PLD800
PLD1200
PLD1600
PLD2400
PLD3200
PLD4800
Weighing hopper
(m3)
0.8
1.2
1.6
2.4
3.2
4.8
Storage hopper
(m3)
2
2.2
3.7
12
20
25

Productivity


(m3/h)
48
60
80
120
160
280
Accuracy
(%)
±2%
±2%
±2%
±2%
±2%
±2%
Max weigh
(kg)
1500
2000
3000
4000
5000
8000
Aggregate
species
2-3
2-4
2-4
3-4
3-4
4
Height
(mm)
3000
3000
3000
3200
3500
3800
Belt conveyor
speed(m/s)
1.25
1.25
1.25
1.0
1.0
1.6
Power
(kw)
(2-3)X3
(2-4)X3
(2-4)X3
11
11
15
Weight
(kg)
2500
2900-3900
-4900
3750-4750
-5750
8500-10500
10200-12600
13600
One hopper
dimensions(mm)
3200×1600
×3000
3200×2000
×3200
3500×2000
×3200
3250×2840
×3900
3380×2900
×4450
4500×3900
×4820
---
Do not hesitate to contact us ,we value your message