Professional Concrete Mixer Manufacturer

JS Series Concrete Mixer
---
JS Concrete Mixer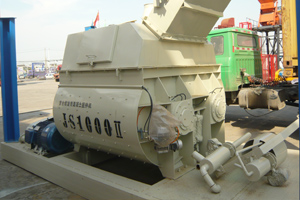 Definition of JS Concrete Mixer
JS twin-shaft
Concrete Mixer
is horizontal double axle forced mixers, which mixes mixture according to the shear mechanism.
Usages of JS Concrete Mixer
JS
concrete mixers
for sale can be used on all kinds of precast plants, highways, industrial and civil construction, roads, railways, bridges, water conservancy and harbors. JS concrete mixers have a wide range of usages.
Features of JS Concrete Mixer
JS concrete mixers have two advantages: independent performance and forming simple concrete mixing plants with PLD series of
batching machines
. JS concrete mixers for sale have stronger mixing effect than that of self-falling
concrete mixer
, so JS concrete mixer are suitable to mix dry concrete and light weight aggregate concrete.
JS concrete mixer of our pioneer machinery company are designed according to GB/T9142-2000 standard. They have characteristics as reasonable structure, good mixing quality, short mixing time, low energy consumption and low noise and so on. It is a great choice to buy concrete mixer from our company.
Parameters of JS Concrete Mixer:
| | | | | | |
| --- | --- | --- | --- | --- | --- |
| Model | JS500 | JS750 | JS1000 | JS1500 | JS2000 |
| Discharge capacity | 500L | 750L | 1000L | 1500L | 2000L |
| Charging capacity | 800L | 1200L | 1600L | 2400L | 3200L |
| Productivity | 25m3/h | 35m3/h | 50m3/h | 75m3/h | 100m3/h |
| Aggregate size | 60/80mm | 60/80mm | 60/80mm | 60/80mm | 60/80mm |
| Mixing motor power | 18.5kw | 30kw | 37kw | 60kw | 2*37kw |
| Lifting motor power | 5.5kw | 7.5kw | 11kw | 18.5kw | 2*37kw |
| Pump motor power | 0.75kw | 1.1kw | 1.1kw | 1.1kw | 2*37kw |
| Dimensions | 3050*2100*2680 | 3650*2200*2560 | 4640*2250*2750 | 5058*2250*2440 | 5500*2000*2600 |
Whether the selection and application of concrete mixer is reasonable, it will directly affect the construction cost, construction schedule and quality. Nowadays, there are many kinds of concrete mixing equipments. Therefore, users need choose the correct and reasonable concrete mixer for using.
Users can consider the following advices when
buy concrete mixer
:
1, Production capacity: choose concrete mixing equipment according to annual concrete production.
2, Choose high quality concrete mixer in order to produce high quality concrete.
3, Select a reasonable concrete producing equipment according to the scale of construction site.
4, When purchase concrete mixer, mainly considering the progressiveness, reliability, excellent performance and universality of the equipment.
5, Forced type concrete mixer has good mixing quality, strong overload capacity, smooth unloading and discharging, high efficiency. JS concrete mixer is suitable to mix various concrete. Currently, most of concrete mixing equipment widely uses JS concrete mixer.
6, Considering the cost performance when
buy concrete mixer
.
7, Fully pursuing the technical performance of equipment is not wise, which would add unnecessary investment. While, only pursuit of low investment and reduce the requirements to the technical performance of equipment will bring increased costs, which is also not desirable.
---
Do not hesitate to contact us ,we value your message