Professional Concrete Mixer Manufacturer

JZD Diesel Concrete Mixer
---
JZD Diesel Concrete Mixer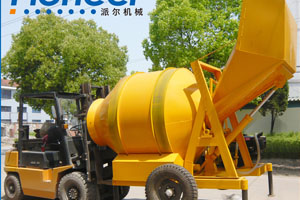 Definition of JZD Diesel Concrete Mixer
JZD
Diesel Concrete Mixer
is diesel engine powered, double-conic reversing drum concrete machinery. The mixing drum of diesel cement mixer is gear-driven. Diesel concrete mixer is also a reversal discharging mobile diesel cement mixer. The drum rotates clockwise during diesel concrete mixer mixing and anticlockwise during discharging.
JZD diesel concrete mixer
belongs to small and medium type of concrete mixer. The production efficiency of diesel cement mixer can meet the requirements of small and medium construction projects.
JZD
concrete machinery
can work with diesel oil. This characteristic of the
diesel cement mixer
can make it be used on the engineering projects where there is no electricity or where it is not convenient to apply electricity. At the same time, JZD diesel concrete mixer can also work with electricity.
Diesel concrete mixer China can be started up by adopting the electric ignition method, which is very convenient.
The working procedures of diesel cement mixer are just the same as those of other concrete mixers.
Features of JZD Diesel Concrete Mixer
JZD diesel concrete mixer can mix semi-rigid and plastic concrete. Diesel cement mixer is characterized by balance running, simple operation and high efficiency. JZD diesel cement mixer has no stirring shaft and it belongs to self-falling
concrete mixer
. The aggregate is moving with barrel. When the aggregate goes to the highest point, it will freely fall, so the effect of mixing is good. Diesel concrete mixer goes recycle mixing. JZD diesel cement mixer uses electric switch type discharge, avoid remaining raw material. The discharging of concrete machinery is quick and clean. It is easy to maintain JZD diesel concrete mixer.
Usages of JZD Diesel Concrete Mixer
It is very convenient to operate in places where short of electricity.JZD diesel concrete mixer is suitable for ordinary construction sites, road and bridge projects and concrete prefabricated parts factories. When fixed mixing, users can dig pit, so that the hopper mouth is at the same level of the ground to make feeding convenient and reduce labor intensity.
The engine of JZD diesel cement mixer has homebred and imported type, we supply it according to requirement of customers.
Here is diesel concrete mixer China, Pioneer Machinery Company supplies diesel cement mixer with good quality and reasonable price.
Parameters of JZD Diesel Concrete Mixer
Model
JZD300
JZD350

JZD500

Charging capacity
510L
560L
800L
Discharging capacity
300L
350L
750L
Productivity
8-12m3/h

14-18m3/min

18-22m3/h
Motor power
Water-cooled diesel engine 10-15HP
Water-cooled diesel engine 10-15HP
Water-cooled diesel engine 18 HP
Mixing power
15HP
15HP
18HP
Rotation speed of
the drum
14rpm
14rpm
14rpm
Working cycle period
14rpm
14rpm
14rpm
Maximum aggregate size
60mm
60mm
60mm
Lift time of feeding
About 7 seconds
About 7 seconds
About 7 seconds
Max. speed of driving
10-15km/h
10-15km/h
10-15 (km/h)
---
Do not hesitate to contact us ,we value your message