Professional Concrete Mixer Manufacturer

Mobile Cement Mixer Inspection
---
JZC concrete mixers,
JZM concrete mixers
and JZD concrete mixers are self-falling bipyramid concrete mixer. They are also
mobile cement mixers
.
Mobile concrete mixers
are suitable to be used in ordinary construction sites, road building, bridge construction and medium-sized, small-sized concrete prefabricated factories.
Mobile cement mixer inspections
before test run and preparations:
1. Check the electrical source voltage. Inspections and preparations before test run of concrete mixer: make sure the rated voltage of small cement mixers are 380V and the voltage fluctuation range is 340V-410V, otherwise, the normal operation of concrete mixer would be affected and components would be worn.
2. Inspect whether wirings between electric motor and electric elements are secure and whether grounding wire is reliable. In order to ensure security, concrete mixer users need install leakage protection devices on distribution board and then connect the power.
3. Pull out the dipstick to check whether the lubrication oil of reducer is good and at the regulated oil level. Supplementing and replacing lubricating oil if necessary.
4. Connect waterway. It is needed to prepare one watering bucket. Place the watering bucket near the water pump. Connect suction valve, water pipe and water pump. Put the suction valve in the watering bucket.
5. Check whether connecting bolts of each part are fastening, especially the connecting bolts of rotating parts. Screw up bolts if they become flexible.
With 25-year manufacturing experience and 20-year exporting experience, Zhengzhou Pioneer Machinery Co., Ltd is one concrete machinery manufacturer. Come to us for
concrete mixer
, concrete batching plant, brick making machine, pavement roller and other machines.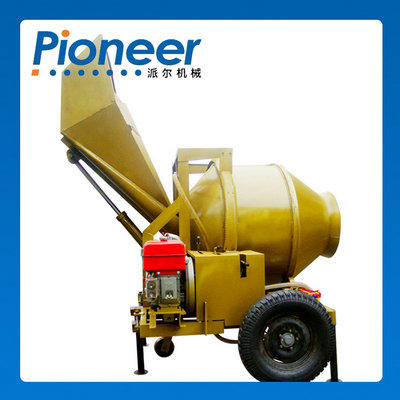 ---
---
Do not hesitate to contact us ,we value your message