Professional Concrete Mixer Manufacturer

How to Use a Diesel Cement Mixer
---
How to use a diesel cement mixer?
Diesel cement mixer is specially designed and developed by our scientific and technical personnels. The production of diesel cement mixer can bring benefits to construction sites where there is inconvenient electricity utilization.
Diesel cement mixer can not only be driven by electricity, but also by diesel. Therefore, diesel cement mixer is able to use electricity to work when the project goes to places where there is electricity. It is convenient and practical to use diesel cement mixer to produce concrete. So it is very popular among consumers, especially suitable for export.
But users must pay attention to the following matters during using diesel cement mixer: it is strictly prohibited to maintain and repair
concrete mixer
during operation. It is not allowed to use tools to reach into the stirring barrel to discharge materials.
After material feeding hopper being lifted, people are not allowed to work or walk through under the hopper. When the foundation ditch of hopper need to be cleaned up or need inspecting under the hopper, personnel need contact with the operator. After the hopper being fastened by chain, personnel can inspect and clean. Check all parts of
diesel concrete mixer
(such as motor, wirerope, bearings, brake, clutch), if there is any abnormal phenomenon, users should repair or replace them immediately.
User must pay attention to these matters during using diesel concrete mixer!
Welcome to Zhengzhou Pioneer Machinery Co., Ltd for concrete machineries, like
brick making machine
, drum concrete mixer, compulsory concrete mixer, concrete batching plant.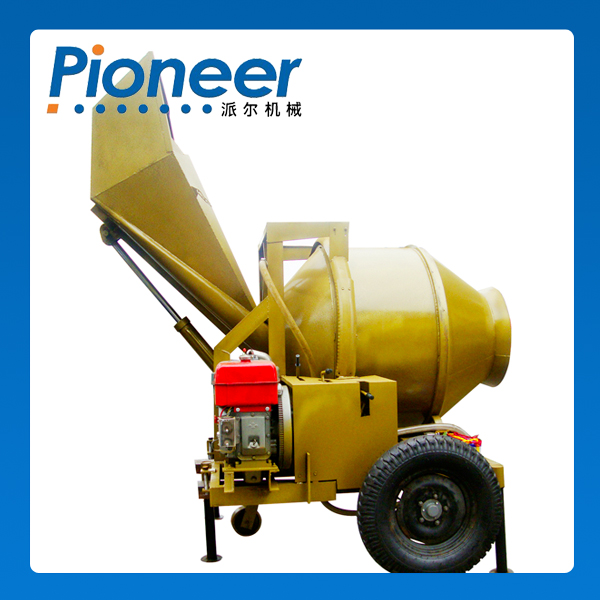 ---
---
Do not hesitate to contact us ,we value your message