Professional Concrete Mixer Manufacturer

JS Compulsory Concrete Mixer Maintenance
---
JS compulsory concrete mixer is one kind of forced type concrete mixer. JS compulsory concrete mixer has two horizontal shafts to be used to mix concrete. The followings are
JS compulsory concrete mixer maintenance
:
JS
compulsory concrete mixer
has multifunction. Due to excellent properties, JS compulsory concrete mixer is widely promoted and applied. Forced type concrete mixer has simple operation, which often let operation personnels neglect JS compulsory concrete mixer daily maintenance, thus causing accidents. JS compulsory concrete mixer maintenance is crucial to users.
1, Keep the body of concrete mixer clean, remove dirt and obstacles on the body.
2, Check the lubrication oil, circuit and control equipment. Lubricate oil according to the requirements. Lubricating oil is very important.
3, Concrete mixer should implement two leakage protection. Before using concrete mixer, connect the power supply. Then carefully examine the circuit. Give the compulsory concrete mixer a test run, after confirming that every part of concrete mixer is normal, user can use compulsory concrete mixer. As for commercial power, safety is very important.
4, Check whether the drive clutch and brake is flexible and reliable, the steel wire rope is damaged, the track pulley is good and lubrication of every part.
5, Before work, add water into the mixing cylinder and race the mixing cylinder for one to two munites. At the same time, check the operating reliability of the clutch and brake.
6, During concrete mixer operation process, users should always pay attention to whether the noise of motor and reducer is normal, temperature is too high.
7, After start up concrete mixer, users should always pay attention to whether all parts of the concrete mixer are functioning properly. After using compulsory concrete mixer, users need regularly check whether blades are damaged, screws become loose to eliminate hidden dangers.
8, When finished working, users should carefully clean up the concrete mixer.
Zhengzhou Pioneer Machinery Co., Ltd has been supplying
concrete mixer
and concrete batching plant for over 15 years. We offer a variety of products with value-added services. Our concrete machineries are not only eco-friendly, but are easy to install and operate.
We produce concrete equipments according to ISO 9001:2008-certified management system to keep up with international standards.
E-mail us today.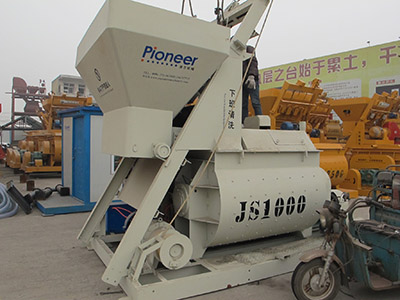 ---
---
Do not hesitate to contact us ,we value your message