Professional Concrete Mixer Manufacturer

Gear Portable Electric Concrete Mixers
---
JZC concrete mixers manufactured by Zhengzhou Pioneer Machinery Co., Ltd are
gear portable electric concrete mixers
.
JZC concrete mixers and JZM concrete mixers are all double-conic reversing drum concrete mixers. The drum of gear portable electric concrete mixers is biaxial shape. Gear portable electric concrete mixers mix materials according to self-falling operational principals.
JZC portable cement mixer
is one substitute concrete mixer for drum concrete mixer.
Generally speaking, gear portable electric concrete mixers is made up of traction frame, front support wheel, feeding rack, chassis, feeding hopper, mixing drum, electrical cabinet, landing leg, traveling tower wheel, stirring power, rotation gear, water supplying system and other parts.
Zhengzhou Pioneer Machinery Co., Ltd offers JZC350 concrete mixer, JZC450 concrete mixer, JZC500 concrete mixer and JZC750 concrete mixer.
Except for JZC750 concrete mixer, all JZC concrete mixers are all
mobile concrete mixers
with small capacity and it is convenient to move them from site to site.
It is our duty to serve clients around the world with products of high quality and reliability, because it is our responsibility as a leading dealer and manufacturer in construction machinery to uphold the high standards that the customers expects from us.
We provide various kinds of concrete mixers and
concrete batching plant
s. With 25-year manufacturing experience and 20-year exporting experience, we are trustworthy.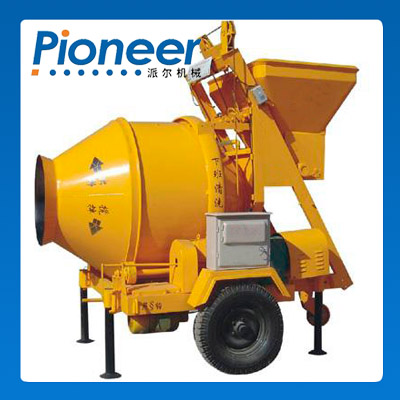 ---
---
Do not hesitate to contact us ,we value your message