Professional Concrete Mixer Manufacturer

Functions of Screw Conveyor
---
What are functions of screw conveyor in concrete batching plant?

Rotating spiral blades of screw conveyor push and convey raw materials to concrete mixer. Raw materials do not rotate with spiral blades due to the self weight of materials and friction resistance between screw conveyor wall and materials.

Spiral blades welded on the rotation axis of screw conveyor have different types according to varied transported materials, like entity type, belt type, blade type and other types. At the end of materials direction of motion, on the rotating shaft of screw conveyor has locating bearing which gives axial counter-force with materials. If the screw conveyor is much longer, middle hanging bearing should be installed.

As for screw conveyor applications: screw conveyor is widely applied in chemical plants. Screw conveyor is also one important part in concrete batching plant. Screw conveyor is mainly used for conveying powdery, granular and small blocky materials, such as coal dust, soda ash, recycled rubber powder, zinc oxide, calcium carbonate and small pieces of coal. Screw conveyor is not suitable for conveying perishable and viscous materials and materials which is easy to blocking.

Zhengzhou Pioneer Machinery Co., Ltd is one professional concrete equipment manufacturer. Come to us for varied concrete mixers and concrete batching plants.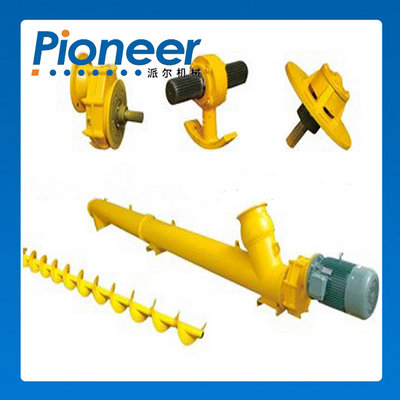 ---
---
Do not hesitate to contact us ,we value your message