Professional Concrete Mixer Manufacturer

Electric Cement Mixer Parts
---
Whether it is large or small
electric cement mixer
, the structure is mainly composed of four parts: cylinder system, mixing system, transmission system and electric control system.
1, Cylinder system: it is composed of cylinder body and accessories. Cylinder is used for bearing the weight of mixture and supporting components.
(1). The cylinder body is made of wide and thick steel plate by bending. With the support of special designed and produced multifunctional shell frame, the cylinder has excellent yield strength. Bearing parts can also make the cylinder body have enough rigidity.
(2). The upper cover body, observation door, observation window, safety switch, pipeline system and other parts form accessories. The main functions of these components are to seal, feed materials and observe.
(3). Maintenance platform is the working platform which is composed of checkered plate and frame. It can be put away and be used for supporting according to the needs, which is convenient to operate and repair.
2, Mixing system: it consists of mixing shaft, mixing arm, mixing blades and the cylinder liner (wear-resisting lining board). These components constitute the main parts of mixing function. The mixing system of
compulsory concrete mixer
relies on parallel twin shafts which rotate in opposite directions to achieve the perfect and uniform mixing effect.
3, The transmission system: it is composed of mixing motor, action wheel, driven wheel, transmission belt, coupling, gear box, connecting sleeve, belt wheel protective cover. The function of transmission system is the high speed changes to low speed and transmits to two mixing shafts.
Electric control system
Zhengzhou Pioneer Machinery Co., Ltd is a professional concrete machinery manufacturer. You can find concrete mixer,
concrete batching plant
, brick making machine and other machineries in our catalog.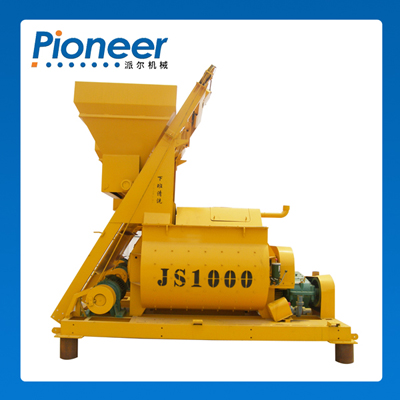 ---
---
Do not hesitate to contact us ,we value your message