Professional Concrete Mixer Manufacturer

Cement Concrete Mixer Market Prospect in China
---
What is cement concrete mixer market prospect in China?

Concrete equipment investment has become one popular item in Chinese building materials market. More and more investors choose to invest this project.
The promotion and popularization of concrete equipment's technology greatly improve the reform and development of construction building materials industry, at the same time, boost the renewal of wall materials market.

Concrete equipments (like concrete mixer, concrete batching plant) are featured by no destruction farmland and no environmental pollution. In addition, concrete equipments help a lot to energy saving and emission reduction of Chinese economy, the shortage of wall materials in construction industry and other problems.
The foundation construction of subgrade engineering, precast concrete box girder in bridge construction, cast-in-place concrete box girder, concrete spraying in the tunnel engineering, building installation in building engineering all need large quantities of concrete equipments manufacturers provide sets of solutions.

Concrete equipments enterprises who can meet complex requirements of these large projects will become the first beneficiaries in new urbanization construction. It can be predicted that cement concrete mixer market prospect in China would gradually become better and better.

Zhengzhou Pioneer Machinery Co., Ltd is one professional concrete equipment manufacturer. Come to us for drum concrete mixers, compulsory concrete mixers, concrete batching plants.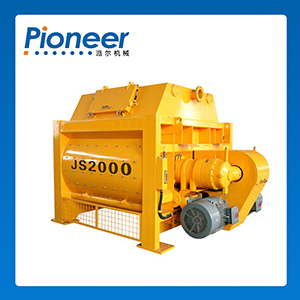 ---
---
Do not hesitate to contact us ,we value your message