Professional Concrete Mixer Manufacturer

The structure principle of PLD batching machine
---
PLD concrete batching machine
is composed of feeding system, weighing system and electrical control system.
1. The feeding system: It is composed of storage hopper and feeding device. Its main function is to store the material and add aggregate into the charging hopper under the control of the control system. The form of the feeding system is PLD800-1200, which add aggregate for the belt.
2. The
weighing system
: The weighing system is the key part of the batching machine, which is composed of weighing hopper, suspension device, weighing system sensor and batching controller.
3. The electrical control system: The electric control system is the core of the batching machine. Its function is to realize the weighing, display, operation and complete automatic batching process of the whole batching machine. This system is mainly composed of batching controller and electric circuit parts quantity.
4. The working principle of concrete batching machine: Before working, the loading machine (when install the batching machine in the underground, it can use the artificial feeding) respectively provides each reservoir with sand and stone material. According to the ingredients control instrument manual requirements, we can input formula (no material must be zero) to the ingredients control instrument. After pressing the ingredients button, the batching machine starts to enter the automatic batching process. The working process: First, the material I belt machine starts to work, it can convey the material I to the hopper, when the weight of the material I inside the hopper reaches its set value, the material I belt machine can stop working automatically. Then the material IIbelt machine starts to work automatically, when the material weight in the hopper reaches the setting value of the summation of the material I and material II, the material IIbelt machine stops working and the material IIIstarts to work. After assorting these four materials, machine is in the state that is waiting for discharging, at this moment, you press the discharging button, the discharging belt starts to work and make the good concrete drier discharge into the mixer hopper. After the completion of the discharging, the machine automatically stops and starts the second cycle of ingredients, after the end of the second cycle ingredients, the machine start to wait for discharging.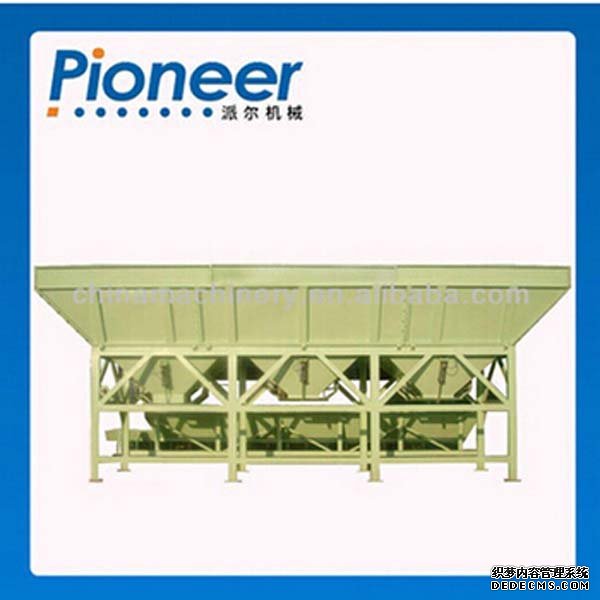 ---
---
Do not hesitate to contact us ,we value your message