Professional Concrete Mixer Manufacturer

Structural Characteristics of Mobile Concrete Batch Plant
---
Pioneer HZSY concrete batching plant belongs to mobile concrete batching plant. Structural characteristics of mobile concrete batch plant are as followings:

Mobile batch plant consists of concrete mixer, aggregate batching plant, powder, water and additive weighing system and control system.

1, aggregate batching plant: aggregate metering adopts cumulative metering and the metering is accurate and reliable. Aggregate storage bin can meet the needs of 2~4 different aggregates' measurement. High precision sensor and automatic fall compensation function ensure the precision measurement of aggregates.

2, control system: the control system of mobile batch plant adopts industrial control computer. Concrete batching plant users can both control the concrete batching plant by hand and by computer. The operation of mobile batch plant is easy and convenient. The control room is spacious and bright, which provides comfort for operators.

3, powder metering: cement and powder admixture are transported by screw conveyor to powder material weighing bucket. In the weighing bucket, powder material is weighed. Then powder material is conveyed to concrete mixer by pneumatic butterfly valve.

4, water and additive weighing system: water is weight by high precision sensors, after weighing, water is transported to concrete mixer by pipelines. So as the additive weighing.

In sum, mobile concrete batch plant is featured by compact structure. Mobile concrete batch plant combines aggregate batching, weighing and mixing to a whole. In addition, mobile concrete batching plant covers a little area. It is convenient to move mobile concrete batching plant, which saves labor and time and improves production efficiency.

As one of concrete mixer and concrete batching plant manufacturer, Zhengzhou Pioneer Machinery Co., Ltd is able to offer a comprehensive construction machineries.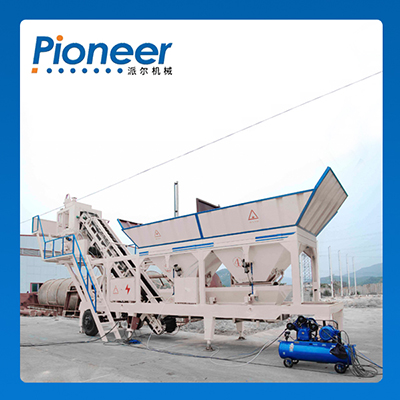 ---
---
Do not hesitate to contact us ,we value your message