Professional Concrete Mixer Manufacturer

Diesel Portable Concrete Mixer For Sale
---
Zhengzhou Pioneer Machinery Co., Ltd provides diesel portable concrete mixer for sale. The followings are introduction to operating steps of diesel portable concrete mixer:

Nowadays, there are many kinds of concrete mixers, like drum concrete mixers, friction concrete mixer, twin shaft compulsory concrete mixer. In addition, diesel concrete mixer is also sold in the market. Today, Zhengzhou Pioneer Machinery Company Limited introduce operating procedures for you:

1. Check the tightness of screw and bolts at each part. Fasten bolts of each part.

2. Check whether each refueling point has enough oil.

3. Open the valve of low part of hydraulic tank.
4. Close down the power switch of controlling box.
5. Close down the hydraulic pressure switch.

6. Wire up to the mains.
7. Control the switch of controlling box.
8. Open the hydraulic pressure switch to see whether the rotation direction of hydraulic motor is the same as the direction of the arrow. If they are not the same, then the circuit is reversely connected. Users need turn power off and then adjust the circuit.

9. Install discharger and unloader rope.

10. Install waterpipe.

11. Make a test run to diesel portable concrete mixer without load. Inspect whether the installation is reasonable and has any problem. Make sure that diesel portable concrete mixer can work normally.

12. Timely lubricate the concrete mixer to ensure its reliability and reduce the wear and tear of components.

Come to Zhengzhou Sanhui Co., Ltd for varied concrete machineries, like electric concrete mixer, mobile concrete batching plant, brick making machine and others.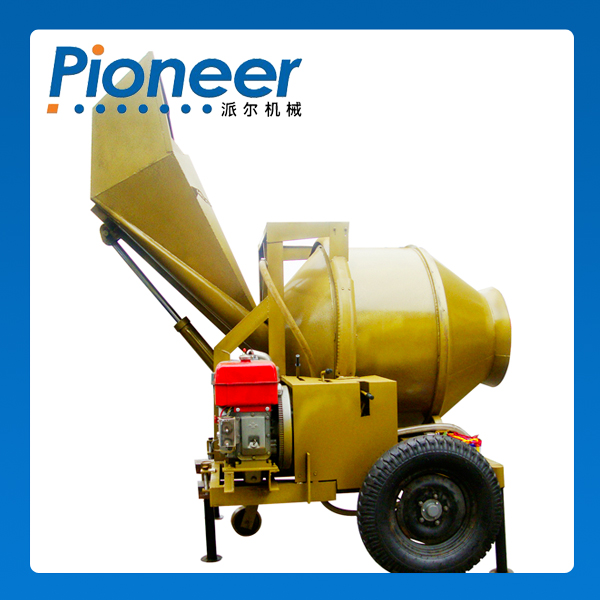 ---
---
Do not hesitate to contact us ,we value your message