Professional Concrete Mixer Manufacturer

Characteristics of Horizontal Barrel Type Concrete Mixer
---
Horizontal barrel type concrete mixer can be divided into single shaft horizontal barrel type concrete mixer and twin shaft horizontal barrel type concrete mixer. Characteristics of
horizontal barrel type concrete mixer
are as followings:
As for
JDY single shaft forced type concrete mixer
, characteristics of single horizontal shaft concrete mixer are:
(1) Convenient maintenance, attractive appearance. It save time and manpower to use single shaft forced type concrete mixer.
(2) JDY concrete mixer has high productivity. It can mix plastic, dry hard and fluid concrete, light aggregate and mortar. JDY concrete mixer and batching machine can constitute midium and small sized concrete batching plant. JDY concrete mixer is widely used in expressway, baking free brick machine factory, bridges, power stations, damming projects and large and midium sized precast factories.
(3) Barrel and frame are fixed. So mixing shaft is able to no longer bear the pressure from material and weight of barrel. Therefore, the service life of mixing shaft is prolonged.
(4) Single shaft concrete mixer adopts motor-operated switch to discharge material. Unlike rotating barrel to discharge material, single shaft concrete mixer is able to avoid the shortcoming of remaining raw materials.
(5) The discharging of JDY concrete mixer is rapid and clean.
As for JS series
twin horizontal shaft concrete mixer
, it consists of reducer, electric motor, frame, material drum, mixing shovel, upright, moving wheels and other parts. Twin shaft compulsory concrete mixer is featured by short mixing time, even mixing effect, low energy consumption, low pollution, excellent abrasion resistance, high productivity, easy maintenance and others. JS concrete mixer is suitably used in all kinds of construction sites and medium and small sized prefabricated-component factories.
Zhengzhou Pioneer Machinery Co., Ltd is one professional concrete machinery producer. Come to us for varied
concrete mixer
s, concrete batching plants, brick making machine and other machineries.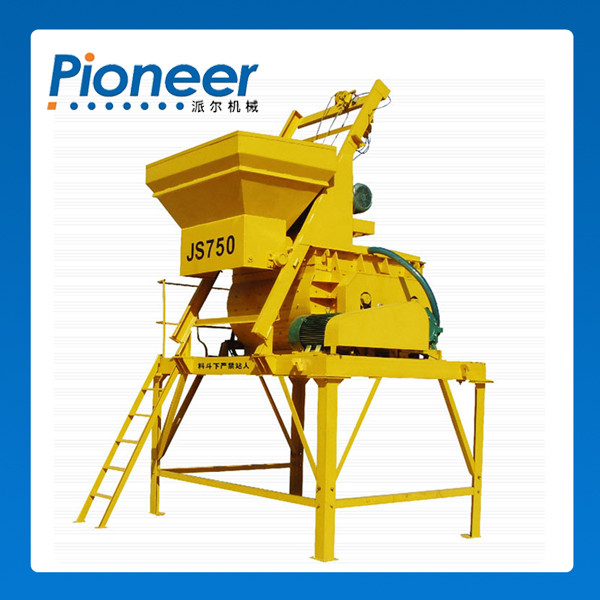 ---
---
Do not hesitate to contact us ,we value your message