Professional Concrete Mixer Manufacturer

Pioneer Twin Shaft Mixer
---
Pioneer twin shaft mixer is widely used in concrete batching plant.

JS series concrete mixer belongs to twin shaft mixer. JS series of twin shaft mixer is double-horizontal-shaft forced type concrete mixer. Mixing blades on the two mixing shafts consist of space discontinuous spiral band structure, which will bring a three-dimensional mixing effect to twin shaft mixer along the radial and axial direction. Twin shaft mixer is able to have a comprehensive effect, including push, rub, extrusion and other, on materials. So twin shaft mixer is able to complete high uniformity of the mixing effect in the shortest time and with the lowest energy consumption.

JS concrete cement mixer can be applied on all kinds of medium and small sized prefabricated factory and highway, bridge, water conservancy, ports, terminals and other industrial and civil building construction sites. Pioneer twin shaft mixer is suitably to mix dry hard concrete, plastic concrete, fluid concrete, lightweight aggregate concrete and mortar. Twin shaft mixer can work with batching plant and form simple concrete batching plant. In addition, twin shaft mixer is also able to be independently used.

Here are several main features about twin shaft mixer:

1. Twin shaft mixer is equipped with multiple shaft end sealing and floating sealing protection device, which will effectively prevent the occurrence of shaft end leakage phenomenon;

2. Twin shaft mixer has strong rigid pneumatic and electric discharging door device, which is able to effectively improve the service life and sealing effect of discharging door;

3. Twin shaft is equipped with mixing arm locking device, which will effectively prevent the occurrence of loose phenomenon between connecting bolts to cause slip phenomenon between mixing arm and the shaft.

Our 15 years of export experience in concrete machinery have earned us population in the world market. We can offer you varied concrete mixers and concrete batching plants.

Each of our product is stringently inspected by our QC member. Contact us today.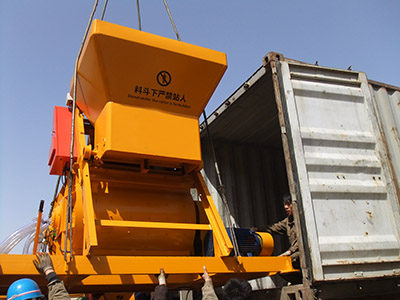 ---
---
Do not hesitate to contact us ,we value your message